The magnificent Hazelbury Manor has teetered on the brink of destruction twice in the past century, but is now in top shape and ready for many more centuries to come. Penny Churchill tells more.
For 20th century, countless country houses across Britain faced severe financial problems, often ending up being demolished, flattened or otherwise downsized. Fortunately, Hazelbury Manor did not suffer such a fate – but only thanks to the efforts of those who intervened more than once, but twice to preserve it in its original form.
Today it is still in excellent condition – and it is looking for a new owner to keep everything in the same spirit. Knight Frank's Department of the Country is quoting an estimated price of £9.75 million for Lot 1, the Grade I listed Hazelbury Manor and its surrounding estate. The site includes approximately 182 acres of organic gardens, pasture and broadleaf forest near the popular village of Box in north Wiltshire, on the southwest edge of the Cotswolds AONB, three miles from Corsham and six miles from Bath. Lot 2, a converted old one-bedroom house in the southwest corner of the estate, is being offered for £250,000.
Hazelbury Manor was owned by the Crock family from about 1280 until the middle of the 15th century, when the last male Crock of Hazelbury died and the property passed through one of his daughters to her husband, John Bonham. Four generations of Bonhams lived here until Sir John Yonge, a wealthy Bristol merchant, bought it in 1575.
In the early 17th century, the Yongs gave way to the Speke family when, in 1613, Sir George Speke bought Hazelbury Manor for his son Hugh, who expanded the house and estate. In the early 18th century, Sir Edward Northey, who was Queen Anne's Attorney General and later Member of Parliament for Tiverton, bought Hazelbury Manor, which was then used as a farm for 200 years, although often used as a hunting lodge.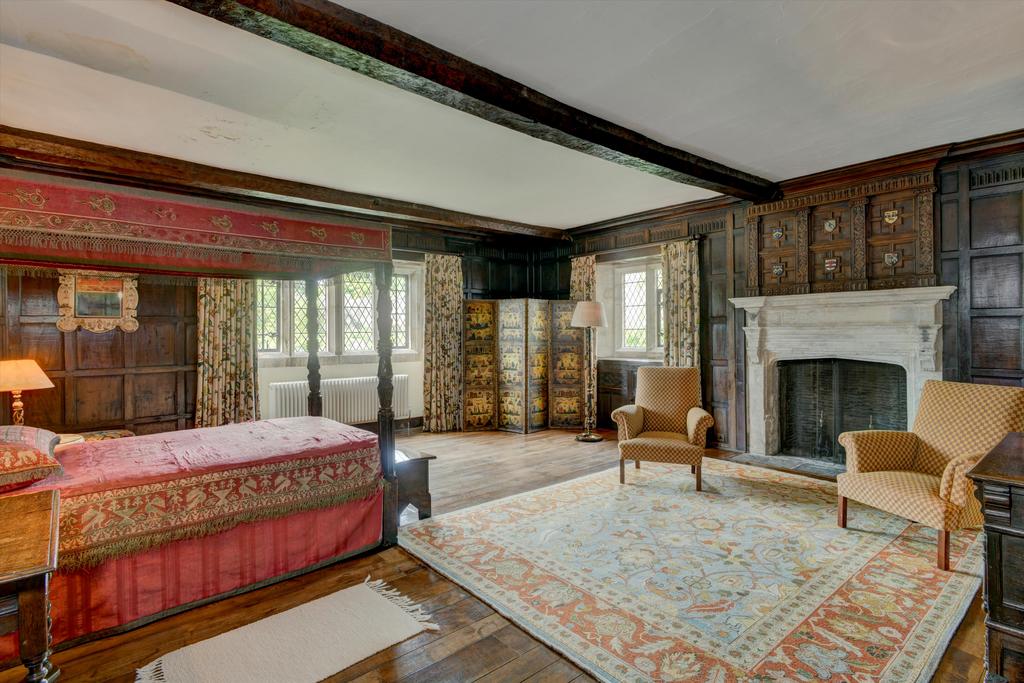 The history and architectural features of the house are described in two articles in rural life (February 20 and 27, 1926), which followed the completion of a massive five-year restoration of the house and gardens by George Jardine Kidston and architect and archaeologist Harold Brexpear, who lived in Corsham. Kidston reputedly spent £450,000 to save the 17th-century house and its gardens (originally laid out by Spics) from the desolation in which he found them when purchasing the estate in 1919.
In the 1970s and 1980s, Hazelbury Manor was once again saved from disaster by the late Ian Pollard, an eccentric architect and real estate developer with a passion for horticulture who was greatly impressed by his predecessor, as shown in the third episode. rural life article (March 7, 1991). "Mr. Kidston, who was a merchant banker and former ambassador, had a good approach," the article says. "In order to get a new stone, he bought a quarry, which had long been sold from the estate. To make sure the new English oak beams for the house were of the right quality, he bought a logging company and then a transport company to bring timber and other goods to Hazelbury."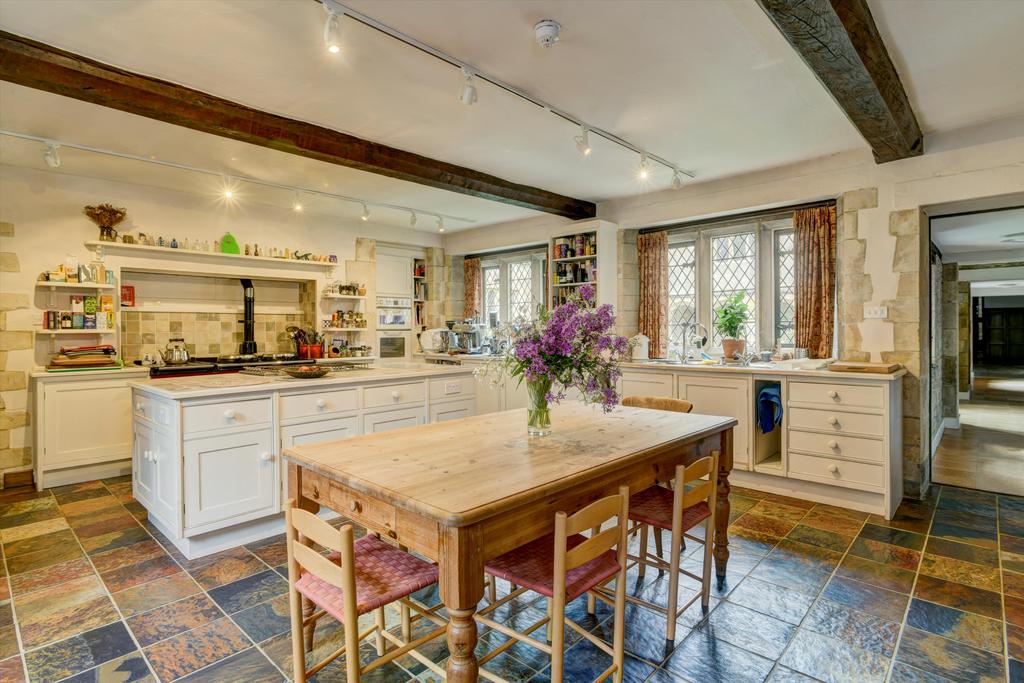 Much of Kidston's work, however, proved to be in vain as Hazelbury again fell on hard times during World War II. From 1943 to 1971, the house had a girls' gymnasium, which left the building in a serious state of disrepair and "almost finished the garden".
Pollard, who bought the estate in 1973, was to renovate and transform an elaborate Tudor-style home and create a mature eight-acre garden "filled with hidden corners and surprises around tall hedges, views, spectacle and ingenuity… the layout of the house moves from room to room ".
Today, the renovated courtyard-planned Hazelbury Estate, based on 2½ floors, offers its own "nooks and crannies". Its 27,000 sq. The ft includes an anteroom leading to the 15th-century Great Hall, from which the parlor and family room are located to the west; to the east, a dining room with south-facing windows and an ornate fireplace; and to the north, the kitchen, kitchen yard, and four-bedroom Dower House – the latter originally built in the 17th century and connected to the main house by Kidston.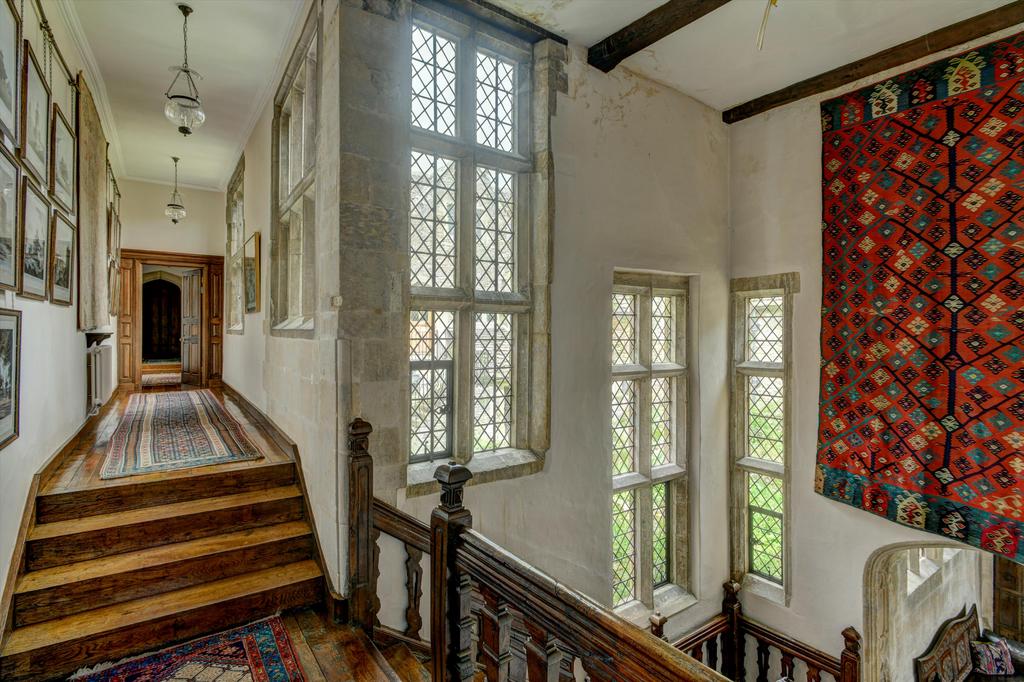 Stairs lead to a magnificent double sided living room on the ground floor with access to a guest bedroom, three additional bedrooms, three bathrooms, living room, study and archives.
The side landing provides access to two additional bedrooms and bathrooms, as well as various service areas.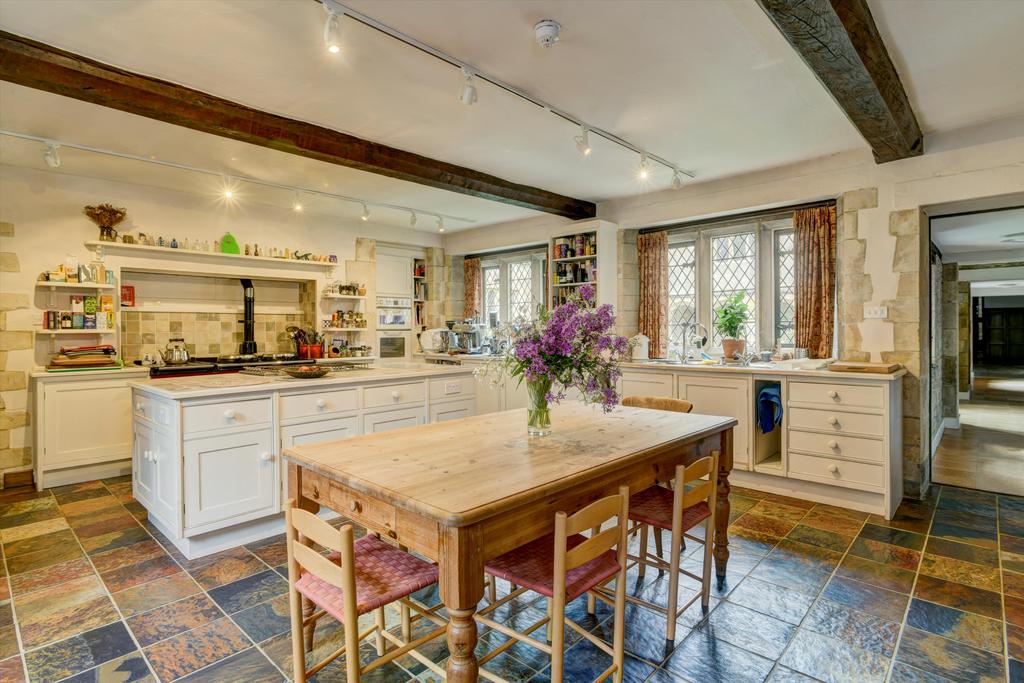 To the north, a second staircase leads to the indoor pool and pool house. The second floor has six bedrooms and three bathrooms, as well as additional space in a Grade II listed granary.
In the courtyard of the 17th century stone outbuildings there is a carriage house, a stable, a kennel and a squash court.
Hazelbury Estate is up for sale for £9.75m – see details and photos..
---
Credit: Knight Frank
Gorgeous homes for sale from Surrey to Staffordshire and Scotland.