In its recent renovation, Mundy's House has spared no detail and showcases sophisticated design and the best of contemporary offerings against the idyllic backdrop of the South Downs.
It's hard to know where to start with a property like Mandi's house, so we'll start with the basics – its location. The estate is located between Southampton (approximately 10 miles) and Winchester (just over eight miles), in the rural village of Upham, in the South Downs National Park.
The property itself, now listed for sale through Savills at an estimated price of £10 million, can be accessed through an iron gate that leads to a central courtyard which contains a prominent fountain pool by sculptor Simon Ellison.
Forests, paddocks, and open fields surround Mundy's, creating a sense of complete privacy and seclusion. It sits on about 19 acres of land and has a beautiful leafy red brick façade with large lattice windows.
The interplay between more traditional property elements and newer pieces harmonize effortlessly.
To the right of the property, for example, is the new spa and indoor pool complex. Floor-to-ceiling windows span all three exterior walls, bringing in landscaped gardens and natural daylight while you're at the pool. The same can be said about the glazed sauna and spacious gym.
Inside, every turn and every door reveals another impressive space. There are four large en-suite bedrooms, two of which have doors leading to a shared balcony from which you can access a spacious sun terrace, while the master bedroom has direct access to the terrace.
Two more bedrooms are located in a self-contained staff/guest apartment with its own kitchen and living room on the ground floor.
There is also a mezzanine-style study and library that lead from the double-height reception hall, bathed in natural light.
The interior features limestone and wood floors, gothic-style doors, marble fireplaces, a beautiful cantilevered staircase, and a striking use of glass glazing (by Nero Glass Design) as a way to synchronize old and new parts of the home.
As you would expect from a home of this caliber, the appliances and plumbing are high end. Furniture is custom-made by furniture designer Toby Winteringham, while appliances in the kitchen and bathrooms include appliances from Gaggenau, Miele, Dombracht and Grohe.
Perhaps most enticing of all is the bespoke Eurocave wine cellar and tasting room, which is part of a glass-enclosed corridor leading from the reception hall, which can hold up to 3,500 bottles.
The rest of the living spaces are made up of formal and informal spaces – cozy cozy and office rooms, as well as vibrant entertainment rooms like the kitchen and dining room, both of which have access to the garden.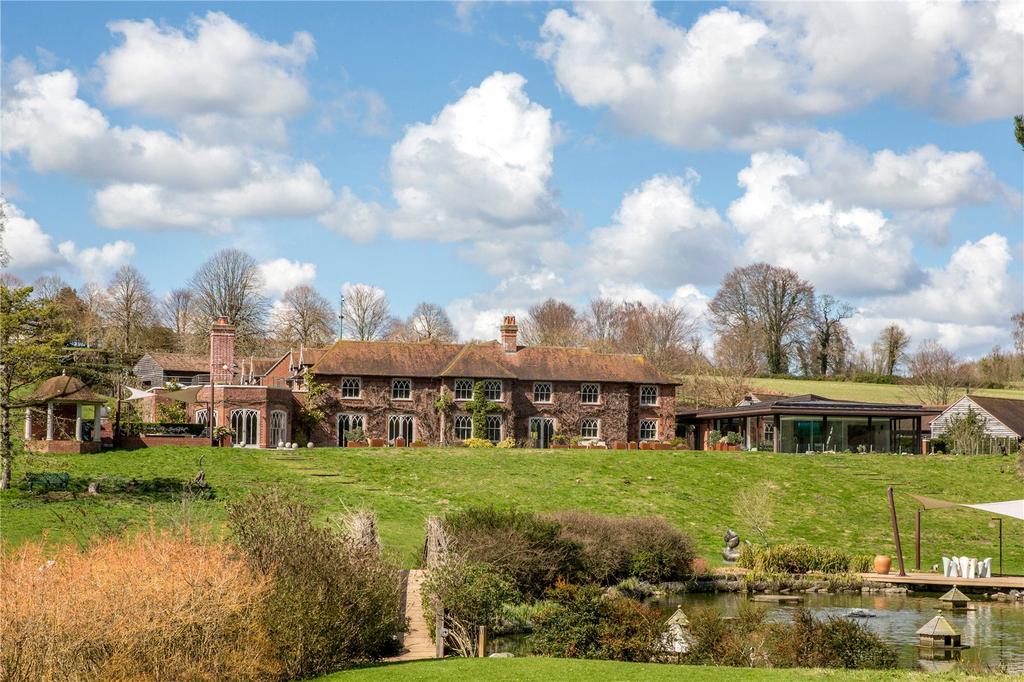 Outside, a completely different world, ideally suited for equestrian life. There are eight garages and a large workshop located around a beautiful quadrangle and a stable with five free stables for the Monarch horses, a solarium for horses, a room for equipment; plus a kitchenette, bathroom, and a commercial Miele washer-dryer among plenty of storage space.
Other outbuildings include a recreation barn (which currently features an indoor golf simulator) with its own living space, kitchenette and bathroom. Behind it there is space for eight cars.
The rest of the gardens and grounds have been given the same attention to detail as the property itself. A large terrace/barbecue area leads from the house (access through the kitchen and dining area) and lawns descend to a large lake. There is also a tennis court, four paddocks and a mixture of regular gardens set against a backdrop of mature trees and forests that blend into the pastoral landscape.
Upham Village is home to the Upham C of E Primary School, two pubs and a recreation ground. Just four miles away is the medieval market town of Bishops Waltham (Best Place to Live in the UK), a medieval market town with a weekly market and everything you need for everyday life, including local supermarkets. , pharmacies, butchers and fish shops, surgery doctors and dentist.
Along with plenty of sports and recreational activities (such as walking through the national park, golfing and sailing on the Solent), schooling in the area is also fantastic. Less than three miles from the hotel are two outstanding elementary schools, as well as the famous Winchester College, St. Swithun's School for Girls, Bidales College and Peter Symonds College.
Mundy's House is, without a doubt, a real rural idyll from which you will never want to leave. Close enough to all major road and rail networks yet tucked away in the beautiful South Downs National Park.
What could be better?
Mundy's House is currently listed for sale through Savills with an estimated price of £10 million – see more photos or ask the agent for more information.
---
Credit: Knight Frank
Gorgeous homes for sale from Surrey to Staffordshire and Scotland.